From BIM to PHPP with the BIM2PH converter
The Passive House Institute aims to allow data entry in 3D BIM tools and transfer as much information as possible for the energy balance calculation and efficiency design into the Passive House Planning Package (PHPP). Based on the IFC format for the data interchange, a platform independent interface concept was developed: bim2PH.
The IFC file can store geometry data and object properties from different areas of expertise, including efficiency properties required for the PHPP calculation. By converting the IFC files into the import/export format of the PHPP, the relevant information of the building models can be transferred from 3D models in the BIM tools into the excel worksheets of PHPP.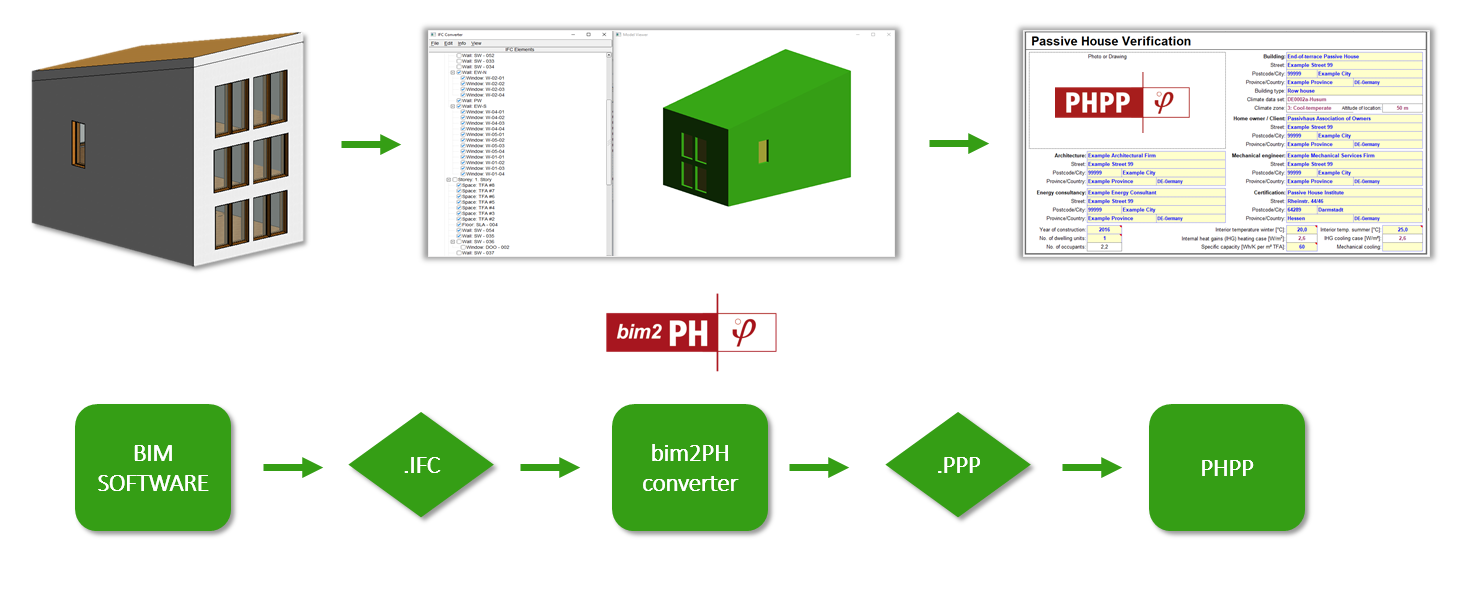 The strength of the IFC format is its common structure. Although various BIM authoring tools are used in practice to create a building model, the converter can be adapted for each tool.
The main challenge is that none of the currently available BIM tools offer the entire range of efficiency parameters required for a reliable energy balance calculation, nor are most of these parameters available as IFC entities in the IFC files. The bim2PH converter concept works with project templates to include the missing energy efficiency properties.
The bim2PH converter created in Built2Spec currently is compatible with IFC2x3 and IFC4.
In BIM tools, the building models have to be enhanced with custom properties in order to complete the efficiency information required in PHPP. The bim2PH converter can then interpret the IFC files saved from these models, identify and extract geometry information, standard parameters, and the custom parameters added by the PH templates. The bim2PH converter also offers a BIM viewer and filter options to select or deselect objects to be exported to PHPP.
These templates could be provided for:
Revit 2017
Archicad 20
Vectorworks 2018
Rhinoceros 6 + VisualARQ v.2.1.050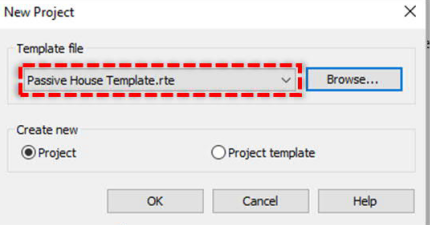 The bim2PH converter exploits the IFC potential to delete redundancy during the data transfer phase, reducing the amount of work of professionals and minimize human error. It thereby facilitates the design and certification of low energy buildings, NZEBs and Passive House buildings by allowing the direct transfer of the building models from BIM tools into the efficiency design tool PHPP. With the uptake of BIM among design and construction professionals, this bim2PH concept will also further promote the application of reliable efficiency design and quality assurance concepts. The bim2PH converter can then identify and extract the following parameters into the Passive House Planning Package (PHPP):
Longitude, Latitude and Altitude (location)
Orientation (of windows or walls/roofs)
Reference floor area (TFA)
Materials (building assemblies / U-Values)
Building Envelope Surface geometry
Thermal Bridges
Windows/Doors geometry
Shading properties
Interior Volumes