Virtual Construction Management Platform
The Built2Spec tools will be integrated in a virtual, BIM-enabled, cloud-based construction management platform which is structured to mirror the most advanced integrated design and delivery frameworks for the building sector.
The platform will provide installation guidelines, shared design specifications, 3D models and relevant information on regulatory frameworks.
In addition, workers and their supervisors will have access to workflow, status, training information and product data sheets through their tablets.
During the project, this platform will be integrated into the operations of small and medium-sized enterprise (SME) contractors, large construction firms and end user clients directly within the consortium and work program activities, assuring systematic and scientific performance measures, feedback and powerful exploitation.
Connected to other Built2Spec tools
BIM-enabled
Cloud-based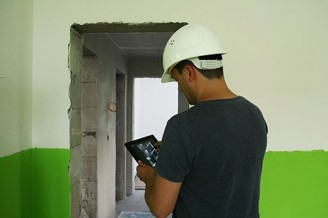 Tablet on-site © Passive House Institute
Automated Quality Assurance and Compliance Methodology
The objective was to use the experience of the partners to develop a comprehensive methodology of quality checks, self-inspection techniques and test procedures for construction activities which will help to close the performance gap between the design and the occupied building.
Therefore, the quality checks and test procedures had to be analysed and broken down into detailed step by step processes which are then described in a standard format for software development. The software industry uses 'User Stories', 'Items of Work' and 'Workflow Diagrams' to communicate to the software developers the functionality and objectives of the software so that they can create the most efficient software system for the VCMP.
The report on automatic quality assurance and compliance methodology can be downloaded here.
Minimal Survey Data Set
This report describes how the key energy efficiency and indoor environmental quality checks, identified  in this project, that are critical to compliance and performance targets for a building can be used with the self-inspection technologies of the Built2Spec Project.
It starts by discussing the wide range of parameters that need to be specified and assessed to ensure that a building meets a customer's requirements. Many of these relate to energy efficiency and are often requirements of Regulations, Rules and Standards defined in a range of documents in the country and region where the building is constructed. Others relate to noise and air quality that may also be part of local legislated requirements. A further group, such as building dimensions, are primarily customer requirements but may be subject to some regulatory requirements.
The report on the minimal survey data set can be downloaded here.