Novel use of embedded sensors in precast elements
The Built2Spec project will implement the novel use of embedded sensors in the precast concrete structural elements. This will be done in order to continuously monitor both, the structural and environmental performance of the building.
Using strain gauges and thermistors cast into various building structural elements, the building performance can be monitored not only at the construction stage, but through the entire lifecycle of the building.
Work has already commenced on this project with numerous sensors already embedded in precast elements which will form the structure of the new 'Human Biology Building' currently under construction on the NUI Galway campus.
It is envisaged that, following the successful completion of this research project under the Built2Spec umbrella, the possibility of buildings which undergo continuous 'self-inspection' quality checks will be a reality.
Paper on sensor-embedded construction elements for continous self-inspection
This paper by National University of Ireland Galway presents the methodology  for  the  use  of  sensor-embedded  construction  elements  for  continuous  self-inspection  and  quality  checks  in energy  efficient  buildings.
Sensors in precast elements
Monitoring of both the thermal and structural performance of the building
Monitoring during the entire lifecycle of the building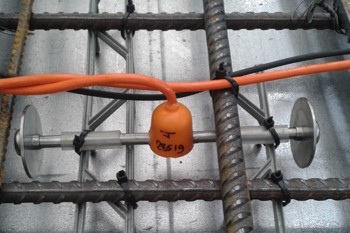 Smart building components © NUI Galway
Interview